Thank you again to our speakers, Jason Barnard, Dixon Jones and Andrea Volpini for joining us on Tea Time SEO. They joined us last week to share their insights into Knowledge Panels and Graphs. You can access the slides to read at your leisure, and enjoy Andrea's tips from the talk here:
Tip 1: Knowledge Panel – use sameAs links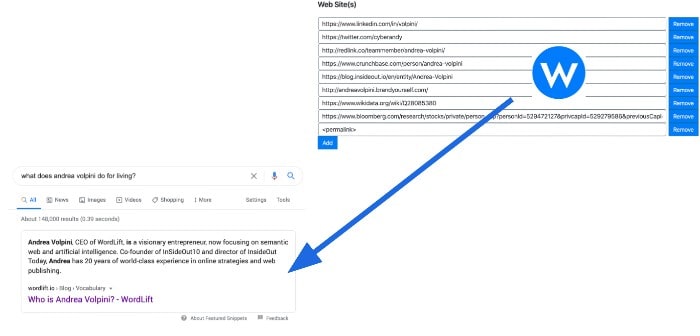 By reading any sameAs link added in the structured data of a website, for any given entity, we tell machines that the entity is equivalent to another entity in an open encyclopedia like Wikipedia, on a social network like Twitter or directly in the Google Knowledge Graph. This provides search engines with the confidence required to use some pages instead of others for extracting answers in the form of featured snippets (as seen in the example above).
Tip 2: Link your data with other people data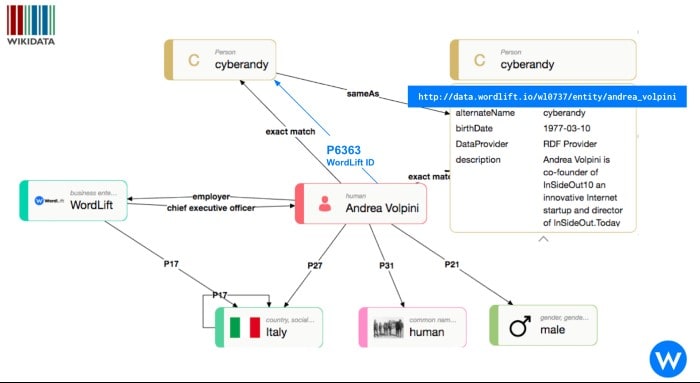 There are four principles to follow when publishing data on the web (and yes, structured data is open data as it is fully accessible).
Use URLs as names for things (this is the unique identifier that we introduced above)
Use HTTP URLs so that people can look up those names (this means that the ID of every entity shall be accessible via HTTP URI)
When someone looks up a URI, provide useful information, using the standards (Behind these URLs we need to publish data using a linked data standard called RDF)
Include links to other URLs so that they can discover more things (and here is where we need to add owl:sameAs property).
A so-called 5-stars open dataset is a way to publish metadata (using linked data standard) that makes it readable and accessible by machines. Here we see the entity for myself on Wikidata linked back using a WordLift ID property in Wikidata with the equivalent entity that WordLift created on my personal knowledge graph.
These links back and forth in the web of data helps Google and Bing significantly with entity disambiguation. They are also proven to be beneficial for SEO and content discoverability in general.
Tip Three: Schema.org is a Multitasker Keep the focus on both SEO and Content Model
Move beyond the idea of using schema markup to get rich results on your site; this is useful and it is the best starting point to get a positive ROI on the implementation of structured data. But, the real value lies in modeling and connecting your content in a meaningful way for your users. By building your own knowledge graph and using it as part of your content model you improve user engagement and boost SEO. Here is how to get started with content modeling and schema markup.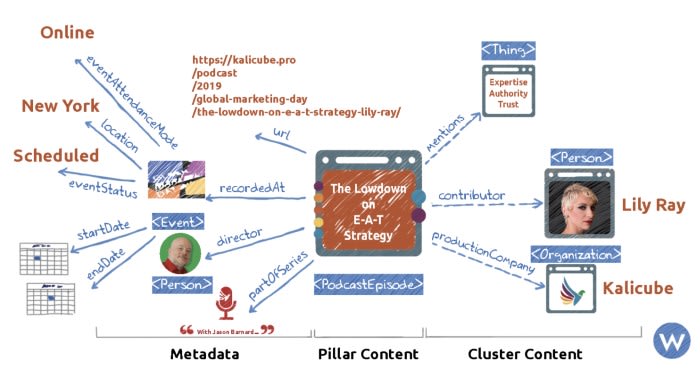 Thank you for sharing your knowledge Andrea! You can find Jason Barnard's notes here. If you enjoyed his talk why not sign up to our Tea Time SEO? You can also subscribe to our YouTube channel as to not miss another talk. See you later for more tea. ☕
Image Credit: Photo by Carolyn V on Unsplash
The illustrations were done by Véronique Barnard: http://veroniquebarnard.com