Automated SEO Reports
Using our automated reports you can create and schedule a series of custom, own-branded SEO reports in a variety of formats to meet the needs of your whole company. Whatever your requirements – PDF, PowerPoint, Excel or CSV, we can deliver in a format that suits your business requirements best. Should you wish, you're also able to extract reporting data using our powerful API. Schedule all reports you require whether you're an agency or an enterprise.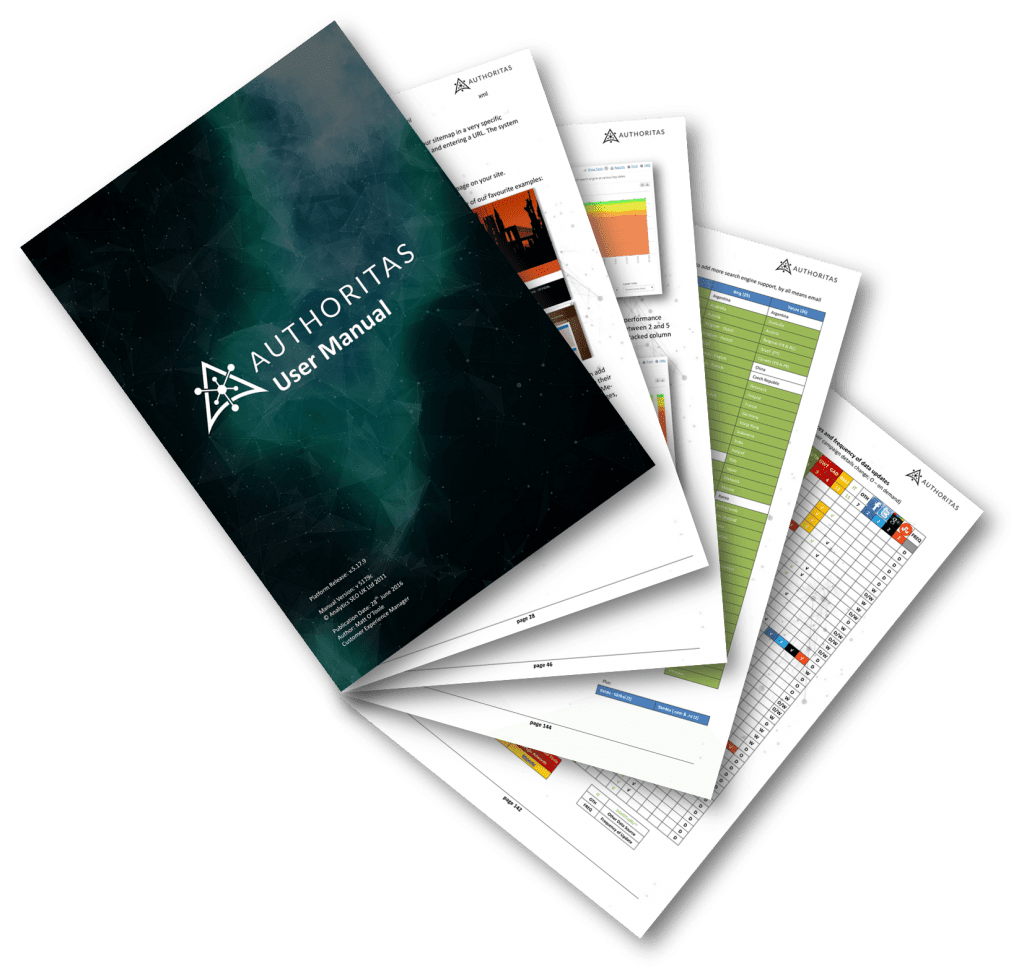 Reporting that fits the needs of everyone
Whether you want to dazzle your boss, your clients, your top sales prospects or just impress yourself, we make it easy to get the data you want when you need it.
Reports available in PDF, PowerPoint, Excel or .CSV
Extract reporting data using our powerful API
Create bespoke industry studies or research reports using our SERPs API
Schedule regular reports or download on-demand
Report automatically against campaign benchmarks, KPIs and targets set, market visibility, ranking data, analytics and link data in one place
Ad-hoc or scheduled reports
The Authoritas reporting functionality takes minutes to setup, but in doing so can save teams hours and hours of work. Our platform is flexible enough to allow you to run reports on the fly or to schedule unlimited reports on a daily, weekly, monthly or quarterly basis. This leaves you more time to analyze and interpret the data, and take the right course of action to drive growth in rankings, visits and online sales.
Branded reports
Upload a PowerPoint template just the once and we can turn  your Google Analytics and SEO data automatically into a beautifully branded PowerPoint presentation that you can have emailed to you when you need it. Upload your logo and receive branded reports in PDF or Excel.
Multi-site reporting for agencies or internal use
Utilize our reporting whether you're an agency working on behalf of clients or are working in-house producing internal reports that demonstrate the impact that SEO and content marketing has on your business. As a Head of SEO or CEO you will want to schedule regular reports demonstrating a quick summary of your key performance indicators for all your clients. Use these reports to take immediate corrective action when there's been an algorithm update and to analyze the individual or collective performance of your SEO team.
Using reporting to assist with pitches
Win more new business pitches by showing real proof of the results you have achieved for existing clients. The Authoritas analysis and reporting suite makes it look as if you have spent days pulling together beautiful, comprehensive research when in reality it's just taken minutes of your precious time.